As we usher in 2021, we've decided to officially share our most well-kept recipe for fun at Glidden Canoe Rentals. While we can't promise you'll be able to make this recipe on your own as well as we do here in Mullen, Nebraska, it's worth the shot.
You'll need:
1 large livestock water tank
4-8 friends and family members (including yourself)
Sunscreen
Towels
Snacks
Appropriate Beverages
Life Jackets
Lawn chairs
1-2 meandering rivers
Good 'ole Nebraskan sunshine
Mix all of the ingredients together and you'll cook up some unforgettable memories (and possibly a sunburn if you aren't careful). Can you guess what the end result is?… Oh right, it's the perfect recipe for tanking in Nebraska, the unofficial official leisure activity of Nebraska! While many of us have had the pleasure of spending our summer afternoons tanking in Nebraska down the Middle Loup and Dismal Rivers for years and years,
Tanking Nebraska's winding rivers is so much fun. We'll paint a picture for you: have you ever felt a cool breeze with a tinge of water and summer heat while floating down a river surrounded by the lush Nebraskan landscape? Imagine that sensation, but extended over a several hour journey – that's tanking. Intrigued? We'll tell you more.
The moment you start your tanking journey, you'll be happy you did. Whether you brought the family with or some friends, tanking down the Dismal or Middle Loup rivers offer ample opportunities for fun, relaxation, and the company of the beautiful nature that surrounds you. It's like a floating family or class reunion! With the soft current of water slowly pushing you to your destination, disconnecting from your busy life is easier than you imagine, especially when you've got the right people, snacks and drinks with you. You can even bring along your favorite six-pack of beer or canned wine to enjoy on your journey (please drink responsibly).
Where else in the world will you be able to experience something so simple, yet so undeniably comforting? The answer is simple: you won't finding tanking anywhere else! All the more reason to come enjoy a Nebraska tanking adventure in Mullen.
Perhaps the best part about tanking is that if you get hot, you can simply jump in the river to cool off without having to worry about your tank floating away too fast! One can only imagine the fun that will transpire on your tanking adventure, which is why you absolutely need to try it.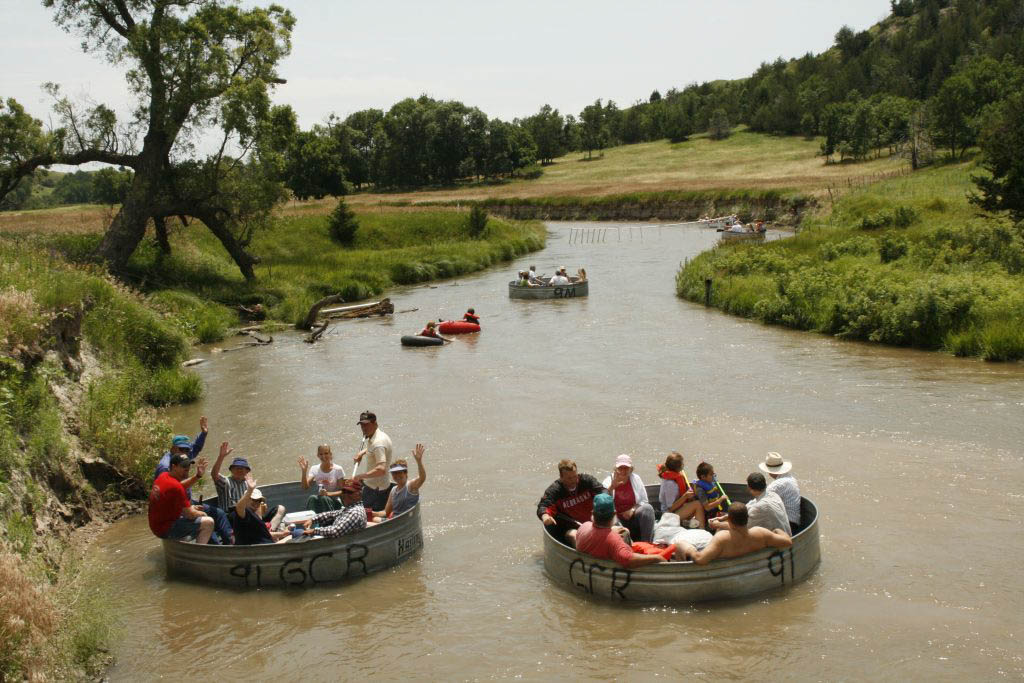 Now that you know a little bit more about tanking, call up your friends and family to start planning your next Nebraska tanking vacation. All it takes is a quick call to the Glidden Canoe Rentals and we'll get you set up with everything. Ranging from two-hour adventures to five or six-hour tanking trips, Glidden Canoe Rentals makes tank rentals quite affordable.
Our current rates are $25 for adults, $10 for children 12 to 6, and free for anybody younger, so long as they have a life jacket. You can click here to learn more about our River Adventure rentals and here to check out our rates. When you call to make your reservation, make sure to let us know that you saw this blog article!
You can 'tank' us later for the recommendation!