Everyone has to start somewhere, and we are glad that, that somewhere is with Glidden Canoe Rentals in the Nebraska Sandhills! Kayaking is an enjoyable outdoor activity for all ages, as long as you know the kayaking basics! Here at Glidden Canoe Rental, we provide all the equipment you'll need from kayaks, and canoes to paddles, life jackets, and more; but we also believe promoting education and safety is just as important.
Proper Clothing & Personal Items
Kayaking is a relaxing way to get in some exercise and soaking in the sun but there is some clothing you should consider wearing or bringing along. First, swimwear or shorts is ideal for your warm weather outing, but also bringing along a rain jacket or vest could be in your best interest just in case of a sudden change in weather. As for your personal items, of course bring plenty of water. Basking in the sun's hot rays is enjoyable but getting dehydrated in the process isn't ideal. Make sure to bring snacks for an energy boost and lunch for longer hours on the river. Sunscreen is a must! After a long day kayaking, the last thing you want to deal with is an uncomfortable, red sunburn. Lastly, consider bringing a dry bag for items you don't want water to touch. You can store things like your phone and camera here!
Let's Get Basic – Proper Posture
Having proper ergonomics is of utter importance no matter the distance you'll be traveling. Be sure you're sitting up straight with your bottom placed firmly in your seat, and place your feet on the foot pegs. Ensure you have a slight bend to your legs, now rest your knees against the kayak. Having this slight contact with your kayak on both sides will allow you to have more control and power while paddling. Relax. Being too tense while kayaking does not help manage the sway of your kayak.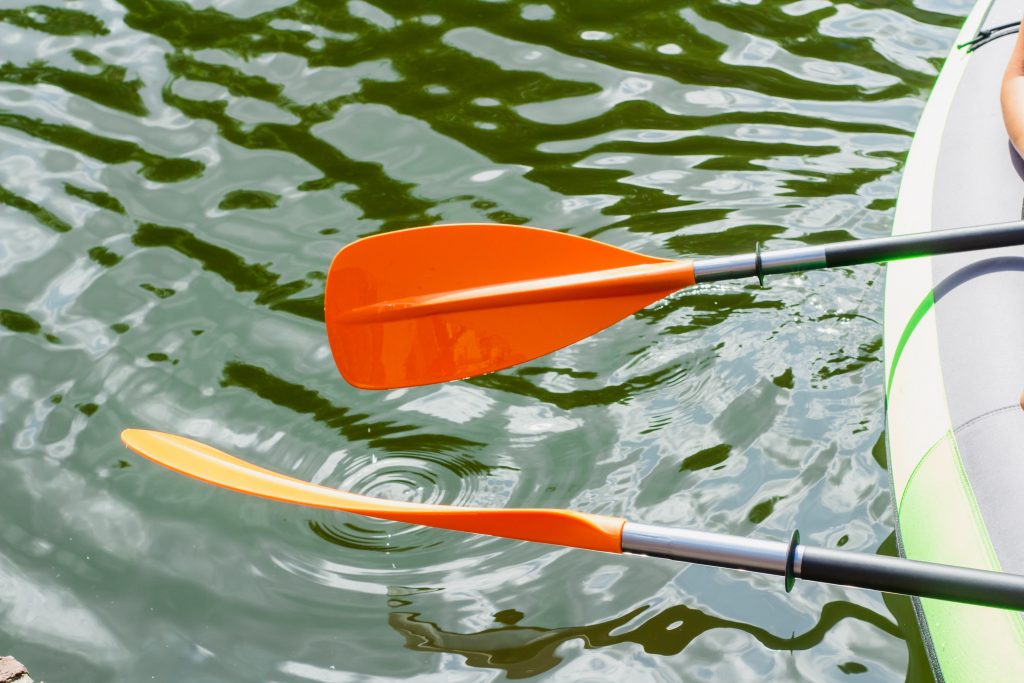 How to Hold Your Paddle
Grab your paddle firmly with both hands, center your hands on the paddle shaft a bit wider than a shoulder distance apart. Now, your hands will be at the starting position as long as your elbows are at a ninety-degree angle. Before you start with the motions of paddling make sure the longer paddle blade edge is on top and the scooped sides of your paddle blades are facing you. Once again relax your grip so your hands are making an 'O', having an aggressive grip can cause your hands to tire out more quickly.
Basic Paddling Strokes
The Forward Stroke – Twist your torso and fully immerse one side of your paddle blade into the water, push that blade behind you in the water. When your hand falls just slightly behind your torso, pull the blade out of the water and repeat on the other side. Repeat these steps to continue to propel yourself forward.
The Reverse Stroke – This stroke can bring you to a stop or propel you backward if you're already at a stop. From a full stop the reverse stroke is the exact opposite of the forward stroke. Fully immerse one side of your paddle blade into the water next to your hip then push forward, once completing this push pull the blade out of the water and continue these steps to continue backwards.
The Sweep Stoke – The sweep stroke will be your basis for making a turn. This stroke is fundamentally the same as the forward stroke except you alter the stroke slightly to be more exaggerated, at a wider angle. Sweep strokes on the right side will turn you toward your left side, and a left side sweep stroke will turn you toward your right side.
Safety is first and foremost when it comes to any type of water activity. Not only is kayaking more enjoyable with a partner but it is safer just in case any help is needed. Be sure to know your distance limit, especially if this will be your first-time kayaking. Kayaking is delightful, but be mindful that it is tiring. Hope you enjoyed learning kayaking basics for your upcoming trip to the Nebraska Sandhills.

Contact us at https://www.gliddencanoerental.com/contact-us/ for your next river adventure! Also feel free to visit our website for more blogs and additional information at https://www.gliddencanoerental.com/